Creative activities are important building blocks of a child's development, and Flippo's helps kids express themselves in new ways.
Halloween Event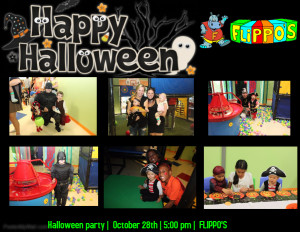 Halloween is one of the kid's favorites holidays in the year!
Dress up, make up and join your favorite friend Flippo the Hippo in a celebration of Halloween!
We have a lot of activities prepared for you:
Photo shoot(for a chance to win a VIP monthly pass)
Halloween oriented Arts and Crafts (child takes home)
Laser Maze competition (for a grande prize)
Face painting
Halloween theme throughout the facility (decorations, playlist,cafe selections)…and much more!
$14.95 for an admission with no food. $19.95 for an admission without food.
Purchase before 10/15 for $2 off each admission. Simply call us at (844) 354-7767.
"Flippo's Kids Indoor Playground and Cafe, located in Sunrise, has created the best Mommy and Me class for residents of Fort Lauderdale, and nearby areas". Combining early childhood music, movement learning, as well as learning a new letter every class, and taught by a certified instructor, creates a perfect opportunity for mutual parents and kids activities.
Read about how important it is to have mutual activities as a family in our blog.
Action Hero Day
Every month, a new hero comes to save the Day at Flippo's Kids Indoor Playground and Cafe ! Join your favorite superheroes in the quest to defeat evil forces! Adults come in for free! Dinner included. Call us for details!
Paint and Wine
Still, looking constantly for weekends activities in Fort Lauderdale area, without the hassle of looking for a babysitter? Inquire about our monthly canvas painting events for adults! You paint away, while enjoying drinks and snacks, while your children play under the supervision of our trained staff.